Hank Says… 7-Talk Collection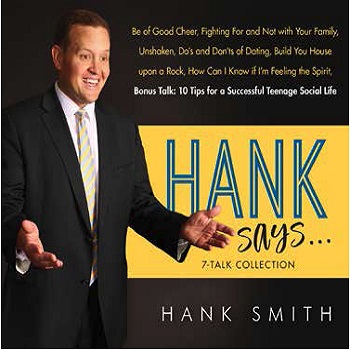 Hank Says... 7-Talk Collection
Hank Smith loves to talk. That's what he does. Whether teaching a class in the Religion Department at BYU, sharing a keynote speech somewhere around the country, or telling inspiring (and usually hilarious) stories at countless firesides and youth conferences throughout the Church, Hank gets to talk. And when Hank talks, people listen-especially youth, who love his humor, his fresh perspective on gospel topics, and his testimony.
This exclusive collection of what Hank has said contains six of his best-loved talks in one convenient package. Also included is a bonus talk, 10 Tips for a Successful Social Life, not available anywhere else.
TALKS INCLUDE:
Be of Good Cheer
Fighting For and Not With Your Family
Unshaken
Do's and Don'ts of Dating
Build Your House Upon a Rock
How Can I Know if I'm Feeling the Spirit?
10 Tips for a Successful Social Life
DISCLAIMER:
Pricing is determined by distributors and may fluctuate. Products might be on sale at certain websites. Please check all of the sources on this page for specific pricing. All refund requests are handled by the distributor. When you click away from our site, you will be bound by the Privacy Policies of the specific website that you visit. We are not responsible for any consequence as a result of clicking to other websites.