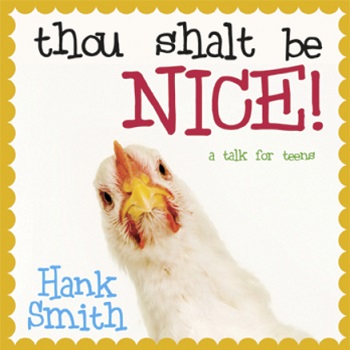 When it comes to chickens, Hank Smith knows a lot more than he used to. Before he met his future father-in-law, Hank's experience with chickens was pretty much limited to the fingerlickin' good kind or those little nugget things you dip in sauce. But Hank learned that chickens have a "pecking order" within the flock and that at the bottom of this order is often found a scrawny, pathetic bird just struggling to survive.
Hank also learned that people can be a lot like chickens–especially in junior high and high school. In order to make themselves more "popular," teens often break into little groups and pick on someone who doesn't quite fit in. In this entertaining and eye-opening talk, Brother Smith describes how his life was changed by the example of someone who didn't follow the flock, but instead reached out to others to help them feel loved. He shares what he calls the "Laura Larsen Challenge" as he invites others to rise above the pecking order and be nice!
DISCLAIMER:
Pricing is determined by distributors and may fluctuate. Products might be on sale at certain websites. Please check all of the sources on this page for specific pricing. All refund requests are handled by the distributor. When you click away from our site, you will be bound by the Privacy Policies of the specific website that you visit. We are not responsible for any consequence as a result of clicking to other websites.